École Queen Elizabeth School
École Queen Elizabeth School has been reconfigured for the 2017-2018 school year to be a K-8 School offering vibrant educational opportunities in both Year Round and French Immersion settings.
Registration packages are available at CB McMurdo School, Ecole Queen Elizabeth School, or at WRPS Central office.
Year Round Education
Year Round Education offers a choice for families whose work schedules and lifestyles do not suit the traditional ten-month school year. 
Year Round Schools have shorter summer breaks with a number of shorter scheduled holidays thus providing a balance in learning time throughout the year.  For more information on Year Round Education, please refer to the National Association for Year Round Education website (keep the link).
Classes for each new school year generally begin the week after the August long weekend.  Staff and students enjoy a two week break in October, a week long break in February, and an extra week during the Easter holidays. 
View the 2017-2018 year round education calendar.
French Immersion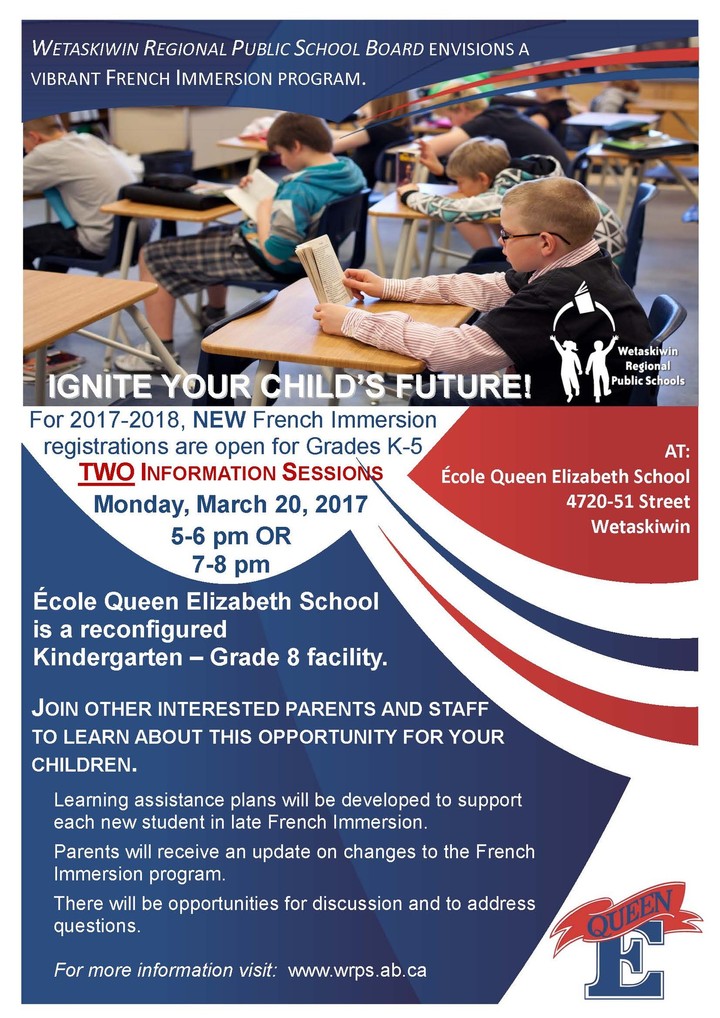 Ignite your child's future with French Immersion!
Ecole Queen Elizabeth School brochure
The French Immersion program operates on the Regular School Year Calendar.
About French Immersion
French Immersion programs are designed for students whose family heritage is other than French.
A second language program in which French is the language of instruction for a significant part of the school day.
Children with all types of academic ability can succeed in French Immersion, no special skills are required.
A program in which the desired outcomes for students are:

a high proficiency in the English language;
functional fluency in French
a mastery of the skills and abilities identified in all subject areas.
Students follow the Program of Study set by Alberta Education.
Becoming Bilingual: 
Immersion students master French in the same way that they learned English. The process is so natural because French is used as the language of instruction and as a means of communication. This helps students quickly learn and achieve the French skills needed to study other subjects in French.  Every student can have the same opportunity and the advantage is that they all have the potential to become bilingual.